Refresh, Repair and Protect Hair with New Awapuhi Wild Ginger® Products
A little maintenance goes a long way with Awapuhi Wild Ginger®'s new trio of hair products. Designed to create and maintain sleek, effortless looks with very little maintenance, this new trio of products—our Dry Shampoo Foam, No Blowout HydroCream and Anti-Frizz Hairspray—will allow you to wash and go, extend your look and prevent frizz before it starts. Each product is infused with KeraTriplex® and natural awapuhi extract to improve hair health. Ready to get to styling? We're rounding up the best ways to work these game-changers into your daily and weekly routine.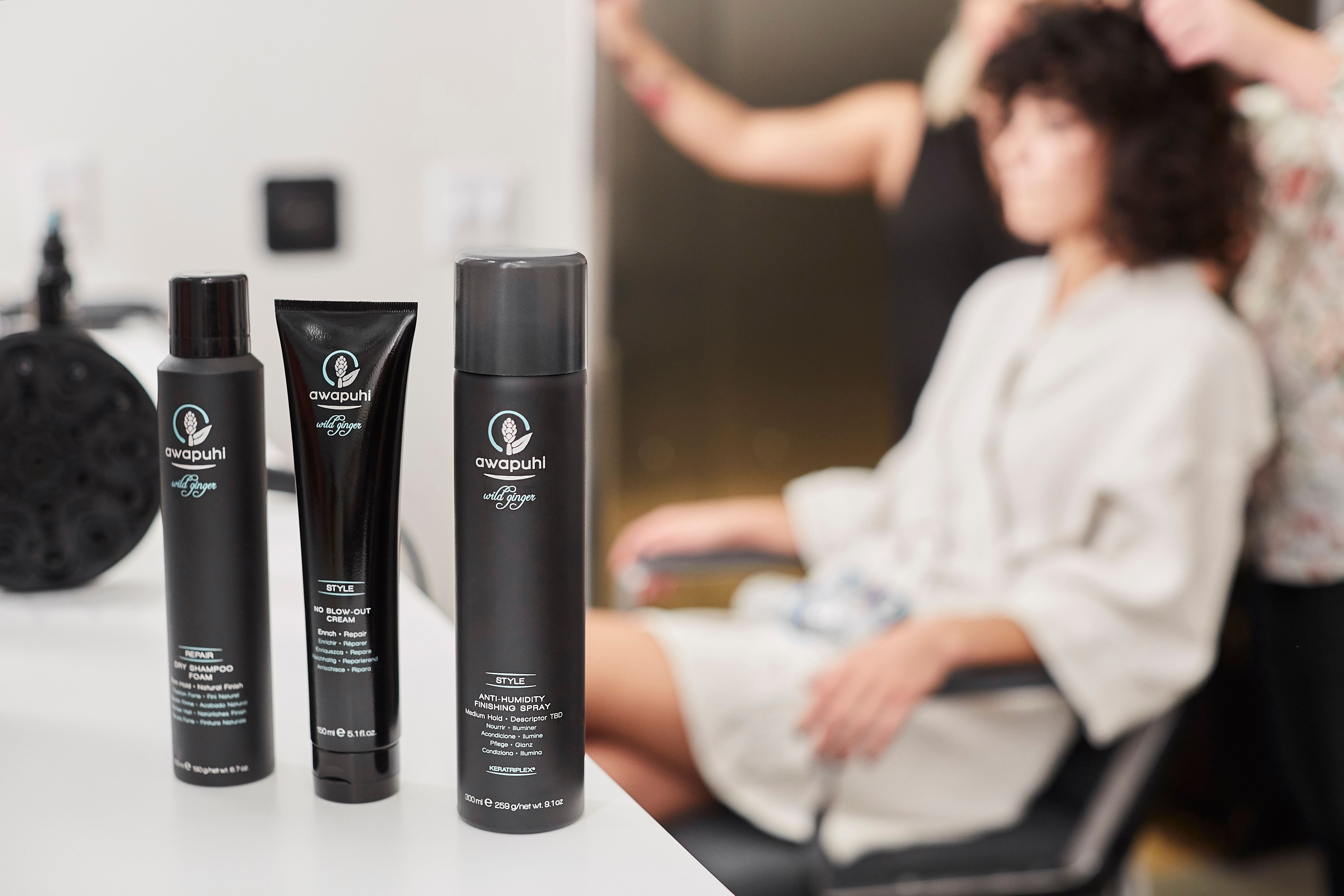 Preserving Your Blowout from Day One
Hair never looks better than when it's fresh out of the salon chair. You can keep your blowout looking great day two and three by being proactive from day one. Spray our Anti-Frizz Hairspray on styled hair to give it flexible hold, or spray it onto your palms and smooth over hair to tame flyaways. This medium hold hairspray also works as an effective humidity shield, blocking humidity from interfering with your style throughout the day.
Once the day is done and you prep for the next, extend your blowout with the help of our lightweight Dry Shampoo Foam that absorbs oil for fresh-looking hair without residue. Shake well, dispense our dry foam into your palms and work it into your hair. Start at your roots and work it evenly into your scalp until it's dry..
Effortless Styling on Fresh Hair
Your hair is refreshed—you've washed it with your favorite Awapuhi Wild Ginger shampoo and conditioner duo. Now, you're ready to style. In under 10 minute's time—yes, your eyes are not deceiving you—you'll be able to prep and style your hair in a way that's effortlessly chic today and that sets you up for great second-day hair tomorrow. (We told you it was a game-changer.) Once hair is towel-dried, apply our lightweight No Blowout HydroCream to hair in sections, scrunching as you work it in to enhance natural waves or curls. In addition to enhancing natural hair texture, this hydrocream is formulated to reduce frizz and allow for faster drying time without heat. Rock your enhanced natural texture or layer our hydrocream with your favorite Awapuhi Wild Ginger styling products for your desired look.
Second-Day Hair, Don't Care
With the new line, you won't have to stress about skipping a wash after a trip to the gym. The new Awapuhi Wild Ginger line allows you to effortlessly refresh, revive and volumize your hair. First work our Dry Shampoo Foam into your roots until it's dry. Then, style hair as desired (maybe into a gorgeous low bun) and lock it in with our humidity resistant Anti-Frizz Hairspray.
Due for a true hair repair? Find your nearest salon to schedule a professional KeraTriplex® or HydraTriplex™ Treatment.