What We HEART: The JPMS™ Digital Team's Favorite Products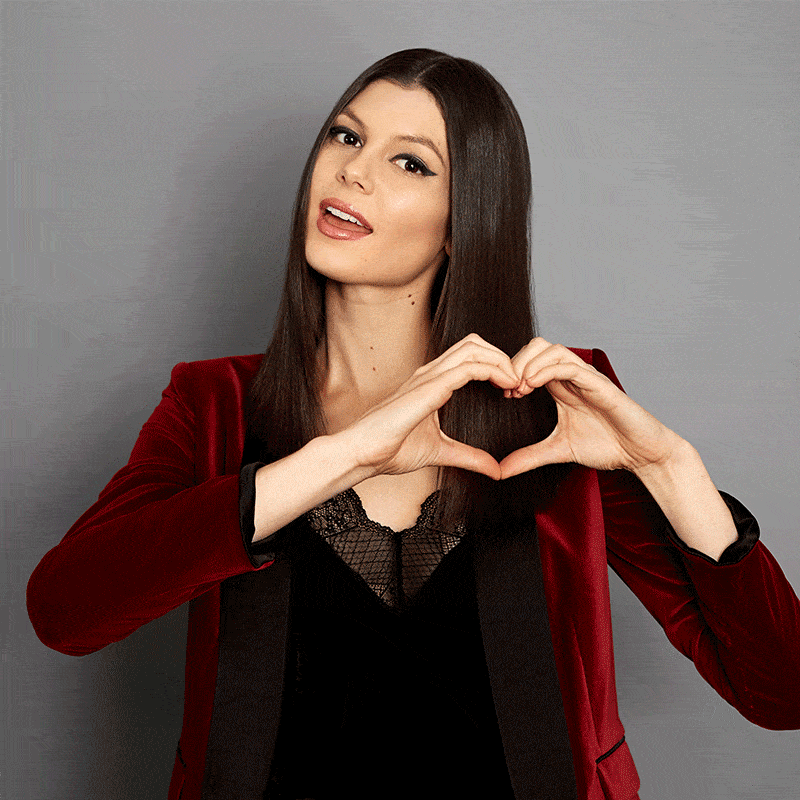 In honor of the month of love, the John Paul Mitchell Systems® Digital Team is sharing our love with you—in the form of honest reviews of our favorite JPMS™ products. One of the perks of working here, is that we're lucky to get our polished little fingers on many great hair products. During our time at JPMS, we've spritzed and sprayed and applied many different products to our hair (of many different textures). The fruit of our not-so-laborious labor? This round-up of the favorite products we'd def double-tap IRL. <3 Read on and snag your faves in time for Galentines Day.
Alexa, Jr. Digital Copywriter
"Odds are, I'm not going to be the first to tell you this, but Super Skinny® Serum is hands-down the best. There's a good reason why it's consistently one of our bestsellers. It's one of those magical products that seems to do something worth raving about on all hair types. While it's conventionally used on damp hair, I actually prefer using it best on dry hair. Before styling, I like to prep my naturally textured hair with a pea-size amount (a little goes a long way) of Super Skinny Serum, along with a cocktail of Neuro Prime and Neuro Protect for thermal protection. The result is either shiny, frizz-free waves or sleek straight hair—all thanks to Super Skinny Serum."
Jamie, Digital Marketing Analyst
"I am totally Team Clarifying Shampoo! One of the many talented hairstylists here at JPMS mentioned them offhand in a meeting, like four years ago, as one of our unsung heroes. I've tried both Shampoo Two and Shampoo Three out, and I have to agree! They're great all year around: from summer, when chlorine can wreak havoc on your hair, to winter, when you're on, like, day five of dry shampoo. I always have a small bottle on hand for when my hair needs some TLC."
Barbara, Digital Content Manager
"I use the Tea Tree Body Bar daily. I like how it provides loads of lather without leaving my skin feeling dried out. It even doubles as my go-to for shaving my legs, as it's gentle on my sensitive skin. And, a single bar lasts for months!"
Madison, Web Developer
"I'm a big fan of the Twirl Around Curl Definer. I've got this unpredictable, wavy hair that defaults to a ball of frizz without something to calm it down straight out of the shower. I'm also not one to spend a lot of time getting ready in the morning, which is why I'm so happy I found this stuff. It's like a one-step wonder. I throw on two pumps of Twirl Around, comb it through with my fingers and scrunch up my hair with my hands to get those curls forming on their own. Then, I let it air dry, and it brings out these bouncy, natural curls. That's, literally, my entire haircare routine."
Muna, Social Media Coordinator
"I have hair that loves to behave badly–super thick, wavy and just too much of it to tame on my own. I've tried a bunch of different straighteners, attempting to recreate the sleek, straight locks my stylists were always able to make out of my crazy hair, but, until my hair met the Express Ion Smooth+ Flat Iron, I was unable to successfully do so. It heats up quickly and always does the job without destroying my hair. It's definitely one of my favorite products of ours."
Candace, Digital Copywriter
"Awapuhi Moisture Mist® is the first Paul Mitchell® product I ever used and continues to be my favorite today. I love that it's one of the original products in the line and that it contains real Awapuhi extract from the company's Awapuhi farm in Hawaii. I initially started using it to hydrate and refresh my skin after being in the sun, but I also enjoy using it as a leave-in conditioner to tame frizz. It makes my hair look so shiny! It's also fabulous to use as facial mist, but the best part is its amazing tropical fragrance."
Katie, Digital Marketing Project Manager
"I LOVE using the Forever Blonde Shampoo and Conditioner. Both help protect my blonde hair from damage, thanks to keratin-rich proteins, and I crave the silky, smooth finish from the conditioner—which leaves my hair feeling super hydrated. After, on damp hair, I like to massage in the Awapuhi Wild Ginger Styling Treatment Oil to add in some more moisture and shine."
What do you like best? Find what other shoppers like you are loving here and tell us all about your personal faves with #IHEARTPM.