Why Awareness Isn't Enough
Bright Pink® is a national non-profit focused on the prevention and early detection of breast and ovarian cancer in young women. The organization's mission is to save women's lives from breast and ovarian cancer by empowering them to live proactively at a young age. As a proud sponsor of the organization, we were thrilled to receive a guest post from Bright Pink Founder Lindsay Avner. Here she shares her personal motivation and passion to help save women's lives in a new, proactive way:
In 2006, at 23 years old, I became the youngest patient in the country to undergo a risk-reducing mastectomy. At the time, the media portrayed it as a controversial decision. For me, it was one I have never looked back on. After watching my mom undergo treatment for breast and ovarian cancer when I was only 12, and learning that 11 other women on her side of the family had battled those diseases, I opted for genetic counseling and testing to understand if I was at risk for these diseases. The positive results indicated I had up to an 87% lifetime risk of breast cancer and up to a 54% lifetime risk of ovarian cancer. This information led me to take action by removing my healthy breast tissue to reduce my risk to lower than that of the general population. Through this process I was exposed to the astonishingly limited amount of educational resources for women in my shoesâ•Œthose who had not been diagnosed with breast or ovarian cancer but wanted to take action with their health.
After undergoing this procedure and becoming the first woman in my family to know with certainty I would not get breast cancer, I came to realize that the difference between my generation and the women who came before me is our unique opportunity to know our risk for breast and ovarian cancer and take action for our health. So I created Bright Pink to fill this void. At Bright Pink, we spend 365 days a year pinking out loudâ•Œtalking, lecturing, tweeting, messaging, texting and emailing about the prevention and early detection of breast and ovarian cancer in young women. It's what our team is committed to on a daily basis. It's how we hope to make an impact, to change the game. Why? There are 52 million women in the US between the ages of 18-45. We are all at risk for breast and ovarian cancer, but more importantly, we all have the power to be proactive, to reduce our risk for these diseases, or detect them at early, non-life threatening stages.
Every woman in the US has at least a 1 in 8 lifetime risk of developing breast cancer. It's the leading cancer diagnosis in women. And every woman has at least a 1 in 67 lifetime risk of ovarian cancer, making it less common, but the deadliest gynecologic disease. Two thirds of women diagnosed with ovarian cancer will die as a result.
We live in a world where most young women don't know the breast and ovarian health basics. They don't know that their breast tissue goes up to their collarbone or that their father's side of the family history matters just as much as their mother's. Many don't trust their doctors or themselves to ask the right questions. They don't make their health a priority or understand that the actions they take now, today, can impact their risk for these diseases in the future.
But the bright side? We can do something about it. When caught early, the 5-year survival rate for breast and ovarian cancer is greater than 92%. Furthermore, 80% of breast cancer in young women is discovered by the young woman herself, and then confirmed by a doctor. The power is in our hands to detect these diseases at early, non-life-threatening stages by knowing our bodies, knowing our normal, and knowing when and what to bring to the attention of a doctor. Additionally, by knowing our family history and practicing healthy lifestyle behaviors, we can proactively manage our own personal risk for these diseases.
It's bright, positive, empowering messages like these that we want and need to spread through movements like #PinkOutLoud. And with the support of the Paul Mitchell communityâ•Œthe schools, the professionals, and the customers and fansâ•Œwe will be able to amplify these messages.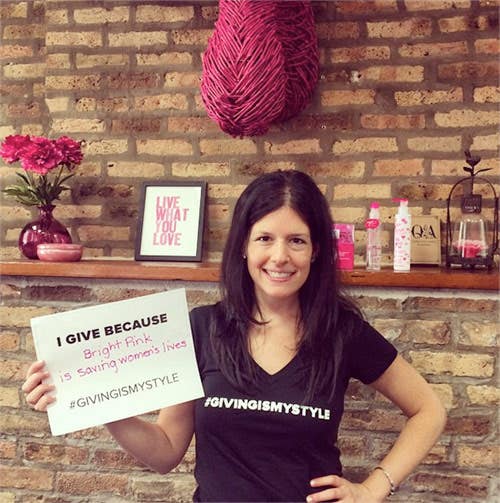 This year millions of shoppers, thousands of students and hundreds of professionals will come together in support of Bright Pink's mission. Through #PinkOutLoud products, school-wide fundraising and social media campaigns, we have the power to raise critical funds and our collective voices to encourage all 52 million young women to brighten up when it comes to their breast and ovarian health.
The PM PR girls are a talented duo that facilitate and participate in all things Paul Mitchell, from sports events to editorial photo shoots and red carpet galas. Lindsey Provost and Tatiana Hilton work with editors, our partners, artists, educators and staff to cover all of the things we do.